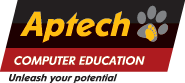 Flagship brand for I.T. Education & Training
I have received a global certification in Microsoft, .Net and now pursuing another in Oracle. Aptech Computer education has sharpened my I.T. skills and enhanced my career. I recommend Aptech to anyone searching for a tailor-made I.T. training.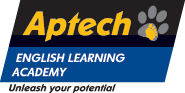 English Language Training
English is spoken all over the world today and Aptech English Learning Academy has given me that fluency in the language. I am now progressing to a professional course in Business Communication. Aptech has helped my career soar.